Hi, I am Dave Hanna and the proud owner of both a Mk3 (1992) and Mk4 (1997) Supra. Unlike the majority of Supra owners I find the best way to enjoy the cars is not the quarter mile but rather on race tracks and auto-x venues which involve braking, turning AND acceleration.
I purchased my first Supra, the mk3, in 2008 while I was in college. I bought the car with 82k miles on it and took it from its completely stock state to a mildly upgraded, 342 rwhp car, including a full motor re-build. For suspension It still uses the stock TEM's shocks and springs with upgraded Whiteline adjustable sway bars front and rear. Wheels and tires are stock Mk4 wheels, wrapped in any of the Extreme Performance street tires popular in the Auto-x world (Dunlop Z1 Star Specs and Hankook RS-3's for example) I did my first track day in 2009 and I was hooked. Ever since I have done many Auto-x events and the pace the car is quite good at the local events I attend.
In 2009 I graduated from College and began the search for my MK4. I have wanted to buy a mk4 for
at least ten years at the time, but took mine time to search for the perfect car at a price I could stomach. I ended up finding that car in June of 2011 and picked the car up in Albequerque New Mexico the day before I was to attend the Pikes Peak Hill Climb in Colorodo. It worked out perfectly. The car was a Stock Paint, all VIN tags present, Southern car all its life. It already had a few upgrades, including a Boostlogic T61 Single turbo conversion, HKS intercooler, Apexi GT-spec exhaust, Tein Type Flex Coilovers, Volk GT-N wheels, and maybe my favorite modification 13.5″ AP Racing Rotors and corresponding 6 piston Calipers up front. The car is now corner balanced and I have gone through and upgraded things for track time longevity since my purchase which I will elaborate on in a future post.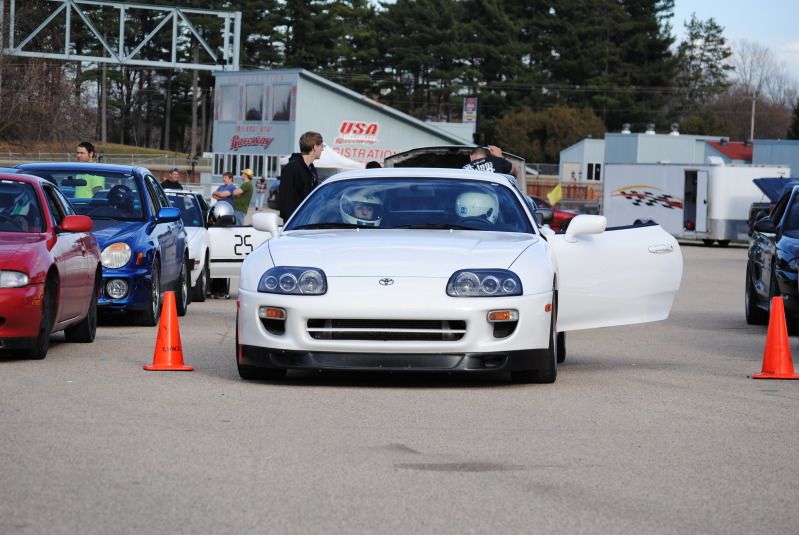 I will elaborate on the track day fun and experiences in both cars but can tell you without a doubt that if you try your Supra out at an HPDE style event you will likely be hooked!
Here is a link to my Youtube channel, there is plenty of on track Supra Content.
http://www.youtube.com/user/supradma71?feature=mhee
-Dave